Granville Sophomore Receives Sweet Recognition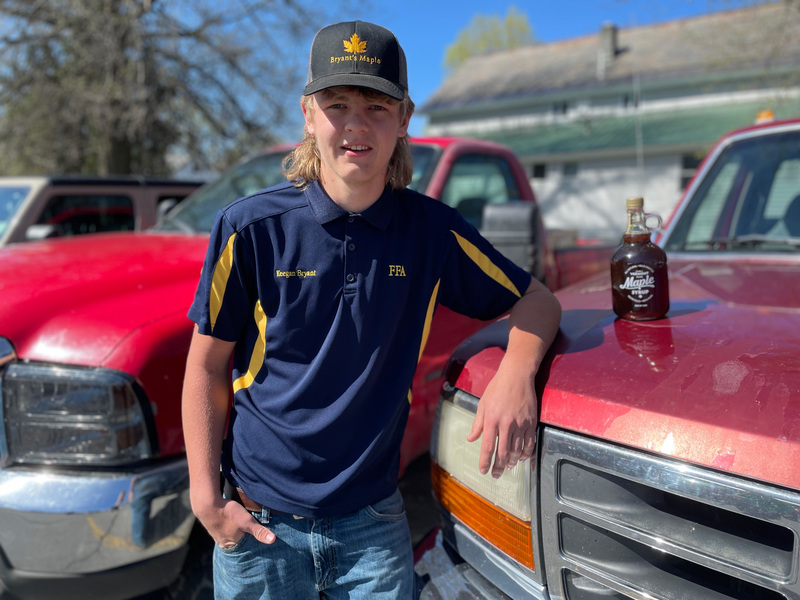 Maple Syrup production is a family tradition for Granville Central School District sophomore Keegan Bryant.
When he was just seven years old, Keegan would go out with his grandfather to collect sap and make their own syrup for the whole family to enjoy. When he turned eight, Keegan began turning sap into syrup on his own with his handmade materials. Now 16, Keegan has turned his hobby into a business, and is picking up accolades for his hard work along the way.
Keegan is one of 22 students in the state to receive the New York FFA Supervised Agricultural Experience (SAE) grant, which will support his efforts to continue producing maple syrup.
"It's a huge honor to receive the SAE grant," said Keegan. "I've been able to turn a passion of mine into a fully functioning business because of the support provided by friends and family, and through my experience with the FFA program here in Granville. This grant will help me continue to chase my dreams and keep doing what I love."
Keegan credits his teachers in Granville with helping him take lessons from the classroom and apply them to what he's doing with his small business. Specifically, he says his teachers have done a tremendous job with instilling a sense of collaboration with others.
"It might sound small, but so much of what I do comes down to being patient and being able to work with others who might not know everything I do when they start," Keegan said. "Not everyone has been involved in the maple syrup industry, and I certainly haven't been doing it as long as other manufacturers. A lot of students and friends are curious about the process, and I'm able to better explain it and walk others through it because of lessons I've learned at school."
The FFA classes Granville offers its students have also become a fertile ground for curiosity, both for Keegan and others. Students have an opportunity to take lessons they learn in their science and agriculture classes and put it to immediate use out in the fields.
"A handful of my friends I've made through FFA have come out and worked the woods with me. It gives them a chance to try something that maybe we discuss in class, but obviously can't practically do every day in the classroom. It's fun working with my friends, and it's more fun knowing they're interested in the science as much as I am."
Students also experience first hand one of the biggest principles their FFA classes teach: sustainability. Classes emphasize the importance of understanding the balance between working the land and making sure you're not over-taxing the materials. Keegan says he better understands the relationship he needs to maintain his trees in part because of time spent with Granville's FFA teachers and advisors.
"If you're too aggressive and over-tapping trees, you'll end up killing the tree itself. FFA helps enforce the importance of balance when it comes to working in agriculture. Obviously there are ways to make sure I'm producing as much sap and maple syrup as I need, but doing it without harming the environment around me."
While Keegan's syrup manufacturing company, Bryant's Maple, takes up a lot of his free time, he's able to find a comfortable school-work balance.
"It can be hard sometimes, but I love it. There are days during basketball season where we'll have varsity practice, and then I go from practice straight into the sugarwoods during sugaring season to make sure everything on my property is alright. Those are long days, but I'm doing what I love and I'm still getting to do everything I want to with my friends."
On top of the SAE grant, Keegan will also speak at the upcoming New York FFA Convention, which will be held in Buffalo. He will share with others involved in FFA programs across the state how the grant will help his maple syrup production company and highlight how others can get involved to be nominated for a grant in the future. He is also a candidate for the 2023 Vermont Maple Ambassador, which will be decided in St. Albans at the end of April.