Building A Bridge For Our Students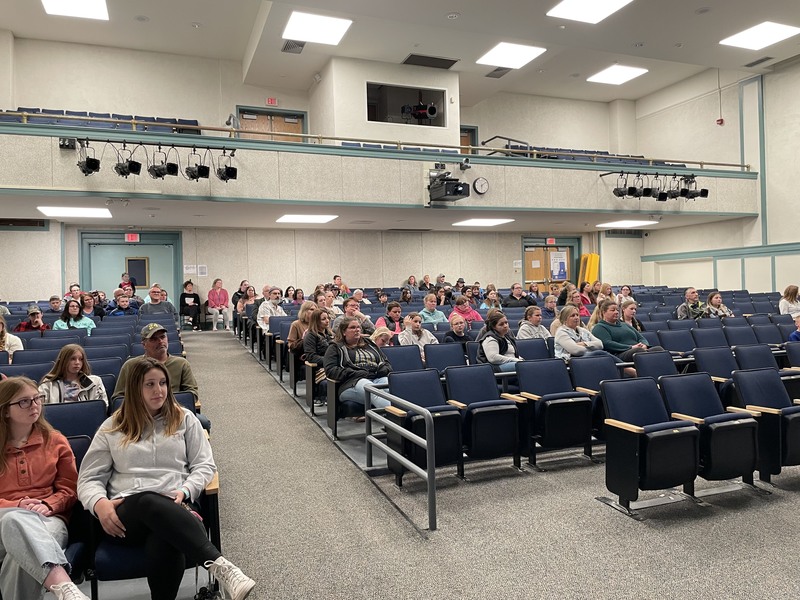 The end of a school year can be an exciting time for students. It's the culmination of a lot of hard work, finished assignments, and memories with teachers and friends that can last a lifetime. It can also create some anxiety about what's next for the students when they return to class in the fall, a feeling that can be even bigger for students making the transition from sixth grade to seventh grade. While the distance between Granville Elementary and Granville Junior-Senior High School is a short walk across Quaker Street, young students can sometimes feel like a fish out of water.NMj
That's why staff at both GES and the Junior-Senior High School have prepared an extensive process to help ease the transition for the soon-to-be seventh graders.
The process begins with Transition Night, a new event that gives young students and parents the opportunity to meet with staff, interact with students who previously made the jump from the elementary school, and become more familiar with the building they will be studying in for the next six years of their academic careers. Elementary School Counselor Nick Healy and High School Guidance Counselor Elizabeth Mulvaney play integral roles in making Transition Night a reality, and both believe it gets students on the right path to feeling comfortable in their new surroundings.
"Our number one goal is to make the transition from elementary school to higher levels of education as stress-free as possible," said. Mr. Healy. "We want all our students and their parents to understand the resources available to them and that we are here to ease any concerns they may have."
"We want to give every student an opportunity to experience the new building in a more comfortable environment," said Ms. Mulvaney. "Transition Night and the other events we have lined up for our students helps reassure them that they will be supported throughout the entire process and give them some familiarity with our staff and teachers before the first bell rings on the new school year."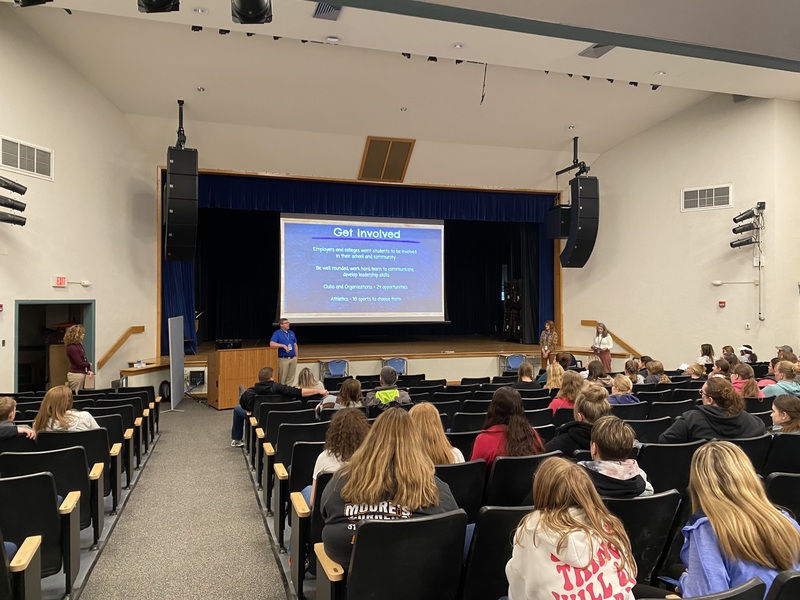 One of the biggest changes students experience when they move from sixth to seventh grade is how the school day is structured. In their elementary school setting, students have block learning sessions, and they may only have two different teachers on a given day, depending on what extracurricular activity is scheduled. That schedule changes completely with the move to the Junior-Senior High School, where students will be interacting with a traditional nine period day for the first time.
"Moving from one class to another can be a point of stress for young students," said Mr. Healy. "It's a major shift going from having one classroom that essentially serves as your home base to having three minutes to move from class to class throughout the day. The best way to alleviate that stress is by giving students a chance to walk the school, get familiar with where their new classes are going to be, and ask questions about what their school days will look like."
For parents, the transition from Elementary School to Junior/Senior High School can create worries about avenues of communication with educators. Students aren't only experiencing a new class schedule, but they're also going from having one or two homeroom teachers to having five or six teachers, each instructing a different subject.
"We don't want parents to feel like they're getting lost in transition either," said Ms. Mulvaney. "It's important that we remind our parents that we're here to help them and their children if they have questions about their child's education. That support system doesn't change because your student moves from one school to another. We're always ready and open to questions that come up, and we don't want parents to feel like they're going to get lost in the shuffle because they're interacting with new teachers and staff at the start of seventh grade."
While Transition Night provides a long runway for students to become comfortable with their new surroundings, there are student-led activities throughout the spring designed to help students become more confident. Every year, the seventh graders who are about to move on to the eighth grade return to GES to speak to students about what their first year was like in a new building. Mr. Healy believes inviting students back to share their experience is one of the most beneficial and impactful elements of the transition process.
"Hearing from students who are going to be walking the halls with you and who, more importantly, experienced everything each of these students will also go through helps send a tremendous message of support. The students come into each classroom and typically say something along the lines of 'I've been in your shoes and I know what you're going through, and I can tell you that it's going to be alright.'"
On top of the seventh graders returning to GES to share their stories with students, each class is invited over to the high school individually to be given a guided tour of the building by outgoing seniors. The seniors are also in charge of introducing teachers on the tours and providing an introduction to the different areas of the school.
"It's really important for younger students to be led by example," said Ms. Mulvaney. "Seniors can provide more color to what makes our school unique, and they can share stories about their experiences. Students can also feel more comfortable asking another student a question about making the transition. And honestly, the seniors love having the chance to give the tours and introduce their favorite teachers to the next generation of Granville students. It's a passing of the torch, and they love it."
This year's Transition Night is scheduled for Wednesday, April 26, 2023. Families will participate in a presentation that will cover the new daily schedule format, extracurricular opportunities, tips for success, and information about future transition activities. There will also be a Hot Dog Roast in the summer before the new school year.
For more information about Transition Night, parents are encouraged to call the Junior High Counseling Office at (518) 642-1051 x2372.
Presentation <-- Click for the powerpoint