Over 3 days in Buffalo, our students visited Niagara Falls, engaged in community service activities, competed in career development events, rode public transit, attended a baseball game, voted on FFA business, made new friends, and showcased their unique talents, among much more. I am happy to announce that, in addition to all of the memories and experiences, the students are also bringing back with them many awards and recognition. I am proud to share the following results and recognitions from convention:
Maple
Team
• Sawyer Foster, Seth Chapin, Keegan Bryant, & Matt Ruigrok - 2nd place in State
Individuals
•Sawyer Foster - 2nd in State
Aquaculture
Individuals
•Sawyer Foster - 1st in State
• Isaac Strout - 7th in State
Supervised Agricultural Experience Grant
• Keegan Bryant
Empire Degree Recipients
• Alivia Jones
• Savannah Illsley
• Collin Norton
Other Recognition
• Seth Chapin & Sawyer Foster - made the stage table featured during opening and closing ceremonies
• Keegan Bryant - Auctioneer during Closing Session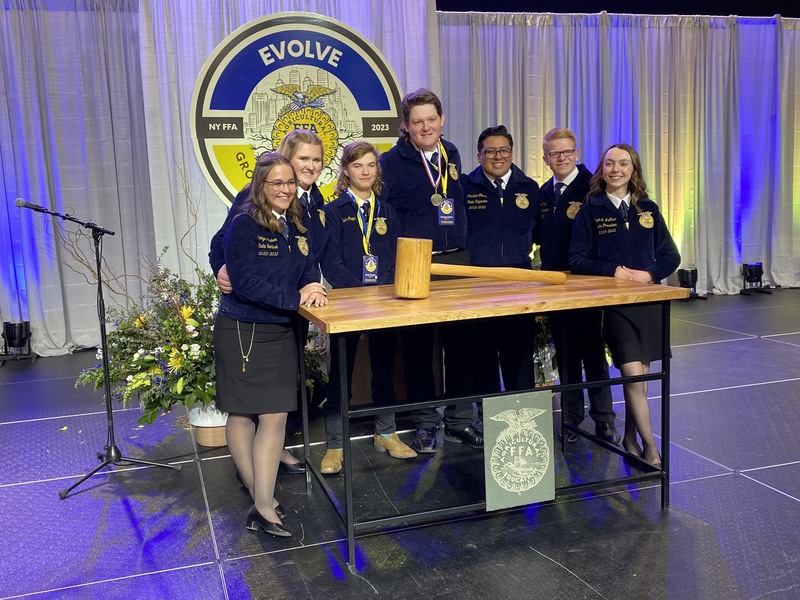 Over 2,000 New York State FFA members traveled to Buffalo this weekend to partake in the convention and we are so incredibly proud of the 19 Granville students who showed great respect, excitement, leadership, and engagement during the week.
Thank you to everyone for your support of this trip and for your support for the students throughout the year. We have some truly amazing students with infinite potential - we can't wait to see where they go! ~Mrs. Goodwin, Ms. Rhoades, & Mrs. Cahan